VITAMIN B12 – An essential micronutrient!
Food is the key to our physical and mental health! The foods that are beneficial to our body are further classified based on their macro and micronutrient profiles. While macronutrients require higher intake in terms of proportion and quantity as compared to micronutrients; the significance of micronutrients for our health cannot be ignored. In fact, each and every one of them is impertinent for our survival! Let us look at one of the most important micronutrients Vitamin B12 and how its presence in our body is essential for our well-being.

Vitamin B12 – A gatekeeper of the health of our physical and mental systems!
Vitamin B12 or cobalamine is one of the eight primary Vitamins. It an essential micronutrient required by our body for the normal functioning of the brain and the nervous system. It is also required for the production of red blood cells, fatty acid, and amino acid metabolism and for DNA synthesis.
In a recent study in the Journal of Clinical Biochemistry and Nutrition, it was found that adequate folic acid and vitamin B12 intake could also help decrease the risk of vascular disease. Vitamin B12 decreases plaque formation that blocks arteries and hence it reduces the risk for cardiovascular stroke and peripheral vascular disease like deep vein thrombosis.
Required Daily Intake and source of Vitamin B12
Since the vitamin is water soluble, it is easily lost from the body and has to replenished daily. The current Estimated Average Requirement (EAR) for vitamin B12 for women and men (aged 14 and above) is 2.0 μg/day. For women during pregnancy requirement is 2.6 μg/day and during lactation, the requirement is 2.8 μg/day.
It is mainly found in animal products such as fish, egg, meat, poultry, milk* and milk products.
*It is important to note that boiling milk destroys the vitamin and yogurt lose it during fermentation.
Foods rich in Vitamin B12
Generally, plant foods do not contain vitamin B-12. But animal products, for example, fish, meat, eggs, and dairy products are rich in vitamin B-12. You can get vitamin B-12 from beef, pork, poultry, lamb, fish (especially haddock and tuna), eggs, dairy products, for example, milk, cheese, and yogurt, and some types of soya milk and breakfast cereals also contain vitamin B-12.
It is always advisable to take a balanced diet to stay fit before taking any active treatment. The symptoms of deficiency can be easily avoided with a healthy diet.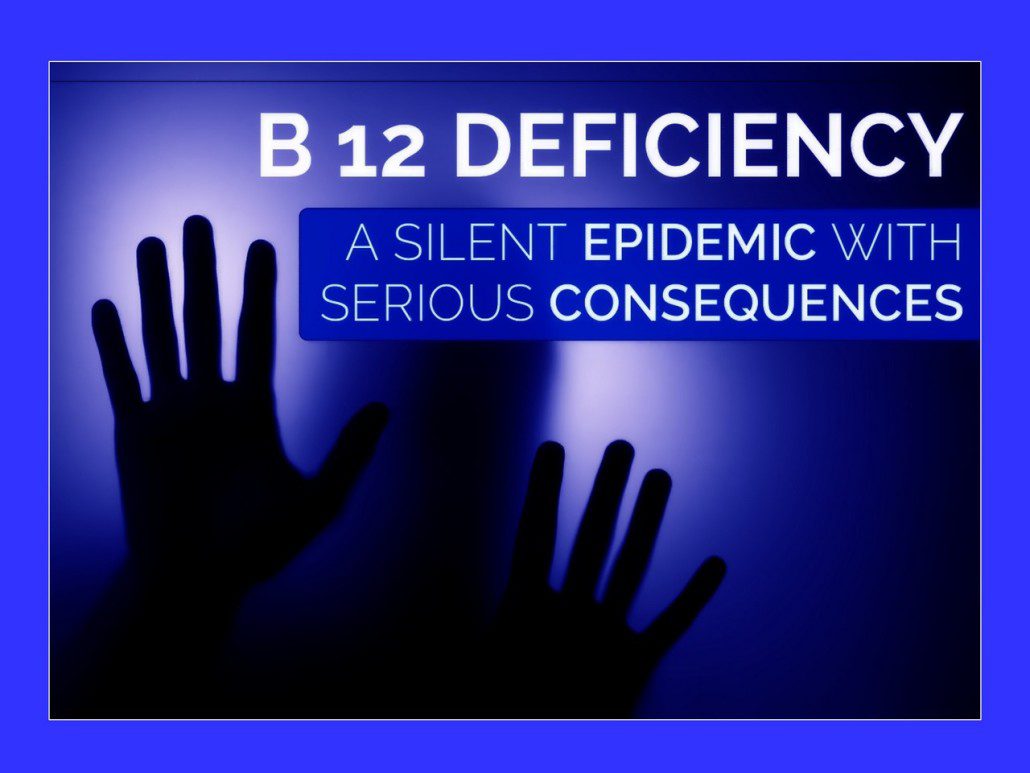 Multiple other causes of B12 Deficiency
Apart from a dietary deficiency, other causes of vitamin B12 deficiency include:
Achlorhydria
Surgical removal of the small intestine
Celiac disease
Chronic alcoholism
Infection with tapeworm
Medications like metformin, ranitidine
Nitrous oxide abuse
Severe MTHFR deficiency
Roux-en-Y gastric bypass surgery
Vitamin B12 is vital among B vitamins. It is water-soluble like other B-vitamins and it can travel through the bloodstream by getting dissolved in water. The human body can store vitamin B12 for up to four years and the excess amount of vitamin B12 is excreted through urine.
Vitamin B12, also known as Cobalamin, is important for the good health of nerve tissues, brain function, and the production of red blood cells. Its deficiency can cause irreversible neurological symptoms and anemia. It is mainly found in meat. People who do not take meat, they can get vitamin B12 in supplement form.
Signs and Symptoms of Vitamin B12 Deficiency
Vitamin B-12 plays an important role in the creation of red blood cells and DNA, and also the proper functioning of the nervous system.
It is naturally found in animal foods, including meats, fish, poultry, eggs, and dairy products. But, it can also be found in products prepared with B12, for example, some varieties of bread and plant-based milk.
Mostly, B12 deficiency is common among the elderly. But, people who don't get enough vitamin B-12 from their diet or aren't able to absorb enough from the food they eat, they may suffer from vitamin B-12 deficiency. People at the threat of a B12 deficiency include:
People who've had surgery in which the part of the bowel has been removed that absorbs B12
The elderly
People who take the drug metformin for diabetes
People who follow a strict vegan diet
Those have been taking long-term antacid drugs for indigestion
The symptoms of a vitamin B12 deficiency take years to come up and it is more difficult to diagnose. Deficiency of B12 can cause a drop in folate levels.  Here are some symptoms of B-12 deficiency.
Weakness and Fatigue
Vitamin B12 deficiency can cause weakness and fatigue. These occur in the absence of enough vitamin B12 in your body to make red blood cells, which transport oxygen all through your body. Therefore, you feel tired and weak.
In the case of the elderly, this type of anemia is usually caused by an autoimmune condition known as pernicious anemia. In this condition, the body fails to produce an adequate amount of an important protein called intrinsic factor. Intrinsic factor is necessary for preventing B12 deficiency, as it combines with vitamin B12 in your gut so that your body is able to absorb it.
Pale or Jaundiced Skin
B12 deficiency leads to jaundice. In this condition, the person usually looks pale or has a slight yellow tinge of the skin and whites of the eyes. These occur due to low levels of red blood cell production.
Vitamin B12 helps in the production of the DNA which is required to make red blood cells. In its absence, the instructions for building the cells are incomplete, and cells cannot divide.
This result a type of anemia called megaloblastic anemia. In megaloblastic anemia, the red blood cells produced in the bone marrow are large and fragile and these large red blood cells pass out of the bone marrow and into the circulation. As you don't have enough red blood cells circulating around your body, your skin looks pale in color.
The fragile cells can break down, causing an excess of bilirubin. It is somewhat red or brown-colored substance, which is produced by the liver by the breaking down of old blood cells and a large amount of it makes your skin and eyes a yellow tinge.
Breathlessness and Giddiness
Anemia caused due to B12 deficiency can make you feel short of breath and a bit excited. These happen when your body lacks the red blood cells and by that, your body's cells fail to get enough oxygen. But, the reason behind these symptoms can have other causes. So, you need to consult a doctor when you feel breathless.
Sensations of numbness and tingling in the hands and feet
Nerve damage is the major serious side effect of a long-term B12 deficiency. Vitamin B12 is the main contributor to the metabolic pathway which produces the fatty substance myelin. Myelin gives protection and insulation to your nerves. Due to B12 deficiency, myelin is produced in a different way, and your nervous system cannot function appropriately. Therefore, you may feel the sensation of pins and needles or tingles in the hands and feet.
Changes in mobility
If you leave B-12 deficiency untreated, the damage to your nervous system can cause changes in your movement. You may lose your balance and coordination and you may get more prone to falling.
This symptom is mostly found in the elderly. But, checking or treating B-12 deficiencies may recover one's mobility.
Mood Changes
B-12 deficiency can also cause changes in mood. It has been seen that low levels of B-12 lead to mood and brain disorders like depression and dementia. Lack of B-12 can damage the brain tissues and interfere with signals to and from your brain, causing mood changes.  According to some researches, people with deficient in B-12 if supplementing with the needed vitamin can have reverse symptoms.
Glossitis and Mouth Ulcers
Glossitis is also known as an inflamed tongue. In this condition, the tongue changes color and shape and it becomes red, swollen and more painful. As a result, your way of eating and speaking also change. All these things occur due to vitamin B-12 deficiency.
In addition, some people with a B-12 deficiency may experience other oral diseases, like mouth ulcers, feelings of pins and needles in the tongue or a burning and itching sensation in the mouth.
Blurred Vision
Vitamin B12 deficiency is also responsible for blurred or disturbed vision. As B-12 deficiency cause damage to the nervous system, it damages the optic nerve which leads to the eyes. Though it is frightening, the symptoms are often reversible by supplementing with B-12.
Benefits of Vitamin B12
Vitamin B-12 is essential for the normal functioning of the brain and the nervous system. The other benefits of vitamin B-12 are the formation of red blood cells and the production and regulation of DNA.
Vitamin B-12 is responsible for the metabolism of every cell in the body, as it helps in the synthesis of fatty acids and energy production. Vitamin B12 facilitates the release of energy by helping the human body soak up folic acid.
Every time our body produces millions of red blood cells. These cells require vitamin B-12 to multiply properly. If vitamin B12 reduces in our body, the production of red blood cells will decrease and anemia will occur.

Elevated Levels
Vitamin B12 in blood is elevated (above about 600 pmol/L)  in several liver diseases like metastatic liver, hepatocellular carcinoma acute hepatitis, cirrhosis,  and this is also used as a disease marker.
It has not been found the toxic or harmful qualities of excess intake of vitamin B12. However, it is always better to take supplements according to the instructions of your physician.
There are some medicines, which may interact with vitamin B12. These are metformin, proton pump inhibitors, and h2 receptor agonists, usually used for peptic ulcer disease. The antibiotics, such as chloramphenicol, or chloromycetin, may also interfere with red blood cell production in people who take supplements.
Treatment
Treatment of vitamin-B12 deficiency depends upon treating the cause. If it's simply due to a low level of dietary intake then food fortified with Vitamin B12, or capsules of B12 are enough to manage the case.